June 8, 2015
Preventative Maintenance and Onsite Service for Your Ergo-Express® Carts and Tugs and PTC1 Motorized Patient Transport Chairs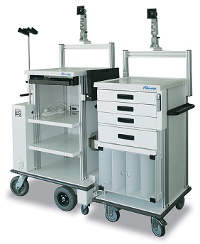 Make Sure Your Equipment is Ready When You Need It
Your equipment needs regular maintenance just like your car, and there are a number of reasons why it might be best to let PHS West, Inc. do all of the work for you:
Your maintenance team is swamped with other work orders
The repair/maintenance work is not part of onsite staff's responsibilities
You want a multipoint inspection by a certified technician
Inspection is just around the corner and you have concerns about the condition of your equipment
You simply don't want the headache of having a piece of equipment down, especially when you least expect it
Did you know?
24/7 technical and operational phone support is included for the life of your product. Simply call the number on your controls with any questions, or to have sales provide you with a repair or maintenance quote.
Onsite Service
Whether you already know what the problem is, or if you want to have one of our technicians diagnose the equipment, we're here to help.
Preventative Maintenance
What's included in our preventative maintenance package?
Replace batteries (2 each – 33/40/55/80 amp hour batteries)
Check all electrical systems for proper operation
Check all operational functions for performance to factory specifications
Check all casters, wheels and locks for proper operation
Discounted labor rate is included for any repairs/installation beyond the preventative maintenance
Help prevent undesirable delays in the operation of your cart, tug, or chair by calling to schedule service today.