August 1, 2015
Imagine if YOUR endoscopy cart was the perfect endoscopy cart. What would it be? 
Would it be motorized for easy transit to acute bedside procedures? Would it have all the equipment properly positioned exactly where you want it? Would all the supplies be readily accessible, easily identified, and in clean, secure storage slots/drawers? Would there be adequate work space for mid-procedure tasks? Would the monitors be securely mounted yet flexible enough to re-position as needed? Would your scopes be safe, secure, and properly positioned for procedural use? Would it have a modular design to be reconfigured if needed in the future? Would it need to be well built and lightweight?
If this is what you expect from your Endoscopy cart manufacturer, then the Featherweight Endoscopy Cart by PHS West is exactly what you have imagined.
Modular design offering thousands of configurations to build the perfect cart to meet your exact protocol
Custom designed to fit all of your equipment and supplies without compromising function
Safe, secure, strong and lightweight for easy maneuvering and years of service
Virtually any accessory item imaginable to accommodate virtually any need
Optional motorization for easy transport to acute beside procedures
If this is what you expect, FEATHERWEIGHT carts by PHS West deliver beyond your expectations.
Call one of our sales and design consultants today and ask them to show you what can only be imagined.
Whether you have basic questions or would like to get an official quote on file, we're here to help!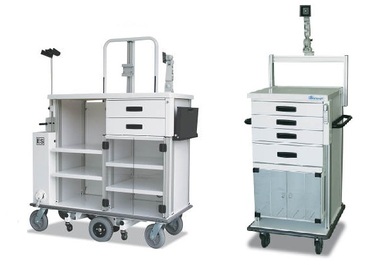 PHS West Endoscopy carts are custom built to be the perfect fit for your needs.