July 14, 2015
Are you or your staff struggling with transporting heavy patients in manual wheelchairs?
Are you or your staff at risk of injury?
The Ergo-Express ® PTC1 by PHS West, Inc. is your answer. Any staff member can transport any patient over long distances, carpet, ramps, and uneven elevator thresholds with the touch of a finger. Call today to schedule your free on-site demonstration of the PTC1 and see firsthand how you can achieve your Safe Patient Handling goals today.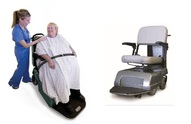 Power Drive eliminates your push/pull injury risk
You can transport patients up to 750lbs without any strain
You no longer need 2 staff members to transport bariatric patients
Optional seat widths up to 30" and foam filled wheels create a comfortable ride of the patient
Call TODAY and you will be on your way to eliminating struggles, frustrations, and employee injury potential associated with manual patient transport.
The Ergo-Express® PTC1 is your solution.